What Not to Wear: On Your Next Flight
This is the TSA Edition
When it comes to passing security, clothing can slow you down.
Some accessories sound alarms; others merely look suspicious. To ensure smooth travels through Transportation Security Administration airport screening lanes, consider nixing these from your travel outfit.
Loose Dresses, Skirts and Shirts
This includes maxi dresses and skirts. They're dang comfortable and look pretty classy, but … What are you hiding under there?
Bulky Pullovers
Jackets and bulky pullovers are one and the same to TSA agents. You'll either have to remove them, or be patted down.
Bobby Pins
A few bobby pins tucking your hair in place is OK, but too many could set off the metal detector. If you want to maintain your hair and skip the pat-down, fix your up-do after screening.
Cargo Pants or Shorts
TSA is serious about removing all items from your pockets—and if you've got a million of them, you're bound to forget something.
Metal Bracelets and Necklaces
Metal jewelry sets off the metal detector. As with bobby pins, consider putting jewelry on after screening.
Belts
Passengers often forget to take belts off before passing through the metal detector. Either remove it right away, or wear pants that don't require the accessory.
Shoes That Are Difficult to Remove
Removing shoes to pass airport security has been standard procedure for years. Footwear with a lot of laces takes forever to get off and put back on.
Offensive Clothing
Wearing clothing with offensive messages or pictures could even get you kicked off a plane.
Eva Jordan-Johnson Owner/Group Travel Consultant, Jordan Travel Enterprise, P.O. box 37, Oakland, Florida 34760 407 924-2760
See if you qualify for us to produce your group cruise or land event at:
Save
Save
Save
Save
Save
Save
Save
Save
Save

Why A Caribbean Cruise is the Perfect Girlfriends Getaway
Are you getting excited yet?
Take The First Step
Complete the Group Leader Survey at http://bit.ly/1K9ZB3r
Then Schedule Your
Free Phone Consultation
Eva Jordan-Johnson Owner/Travel Consultant, Jordan Travel Enterprise, P.O. box 37, Oakland, Florida 34760 407 924-2760
Save
Save
Save
Save
Save

 Spotlight on Italy with Laura Massoni
When I hit my 40's I realized that what I missed the most was sharing my love for Italy, my home country, with the people around me. This love awakened my senses and made me closer to what I remembered dear to me. I believe one source of my passion, is the fact that I had a very slow and secure childhood. I used to take trips to the market with my mom, spend endless Sundays at my grandpa's county house picnicking with family and friends, and the long family meals spent over the holidays.
The warm feelings, traditions and memories are what remain from my years of growth and traveling. There is also the knowledge that building a truly wonderful life begins in the heart. The heart is the home to the memories and the experiences that sustain us, the well from which we will draw incredible reflections and new adventures. Our goal is to leave a lasting memory in our client's hearts, which they will take with them everywhere they go. This is why, I only share with you, the authentic Italian experience!
1. What would you say is the benefit in traveling in a group?
You can go in places without ever feeling alone, without being lost, it is a greater sense of security. You can share memories, laughter, stories and have doors open that you couldn't if you were alone.
2. Why travel to Italy?
Italy has everything you ever wanted from a "complete" life, I call it, EXPERIENCE. If you like history, culture, food, wine, laughter and love this is the place for you.
3. What are some unknown or little known highlights to consider?
Anything even the known cities of Rome, Florence and Venice can be unknown. Italy has so much to offer and so many emotions to share that you can have great experiences by using the right provider. The one that knows the ins and outs of the country. Each of the 20 regions in Italy are a new discovery, they are all different.
4. What is on your travel bucket list and why?
I would love to spend more time in regions like Molise, Abruzzo, Marche and Puglia because they have undiscovered places and are less touristy.
5. How has your travel experiences affected your life?
Having lived for so many years in the US, it taught me how to appreciate more the country I left behind. I love Italy and I love every corner of it and the warmth of the people.
You benefit from our many travel sources and our global experience. Together with Laura we insure that you are well taken care of.

Laura Massoni is an Italian, born and raised with a passion for her home country. She loves to show the Italy she considers authentic and local to travelers. Her mission is to educate and empower the travel agency community about Italy.

Have you ever arrived at the airport ticket counter and been told " Your luggage is over weight?"
This has happened to me on several occasions. I am a recovering over-packer. How about you?
A popular video on my Pinterest page is http://pinterest.com/travelwitheva  is How to Pack a Carry-On like a Boss by Travel Noire
Learn how to pack a carry-on like a pro with this unique bundling method.
Need more help? Need more ideas?  Here are 5 Packing Tips and Tricks to consider with a different philosophy:
This was a practice video in preparation for my first ever Google Hangout. My hubby was in the kitchen on the Vitamix blender but I was determined to keep going 🙂 With each video the nervousness decreases a little.
Check back soon to discover my ultimate gadget in the battle of overweight luggage and airline fees.
Subscribe, share your favorite packing tip in the comments below. Which tip do you think you will use in the future?
Save

Just like concerts are better live, so is travel.
Although we try, we cannot fully capture the wonder and beauty of the world in pictures or words.  It must be experienced.  And for those who, for whatever their reasons, choose to stay with what is familiar, they don't know what they are missing.  They cannot know what they're missing.
Neither pictures nor words can truly capture the:
Magnificence of nature.

Amazing creations built by people.

Experience of living life in new cultures.
When I was a teenager a close family friend took me on a 10 day "graduation trip" to visit her home country of Jamaica.  You may be thinking, "Jamaica, no big deal."  But this trip changed my view of the world and forever changed the way I choose to explore it.
There were many firsts on this trip, but it was the visit to the Montego Bay countryside where I saw poverty meet joy in a way I had never experienced (even in the homelessness and housing projects of my own home city).  I spent time with the happiest children I have ever met (who became even more joyful when I happened to have enough sticks of gum to go around) in a small home with an outdoor bathroom, kitchen, and roaming chickens.  They shared their home, their food and their stories. 
I realized how small my worldview was; at that point I made a personal promise to try to experience a different country every year.
14 years, 21 countries later I am keeping that promise to myself.  I'm not a "trust fund baby" and on most of my trips I wasn't "roughing it".  But I have been intentional.  And the more experiences I have the less I believe I know about the world and ironically, the more I learn about myself.  On each new visit I am reminded that I didn't know what I was missing. 
How can you describe in pictures or words the true majesty of watching the sunrise from the top of Mt. Sinai where Moses received the Ten Commandments, dinner with Bedouin's or swimming in the Red Sea?
It's hard to describe the connection I felt to Morocco after having been welcomed into a family's home for a tagine dinner and a visit to their spice shop or new friends who joined a hike up the Atlas Mountains where homes literally were built in the hills. 

Amazing nature meets amazing God-given creativity.  And although hang-gliding off the Swiss Alps is better than the most remarkable theme park ride, the experience of living life with people in new cultures is truly indescribable; it's what traveling is all about.
Shopping for groceries in the local market or making shea butter in rural northern Ghana, sharing breakfast in the home of welcoming strangers in Paris, and making friends with taxi drivers in Chiang Mai who take us off the beaten path to the best local cuisine and hidden temple treasures.
Pictures and stories are important, but they cannot fully capture the experience of being there. It's just so much better live.


Blog Contribution by Danelle Radney
Danelle has a love for travel, people and cultures. She's a follower of Jesus.
And she's passionate
about addressing the opportunity and achievement gaps in the U.S. She lives and works in
Washington DC with her husband. @danelleradney Danelle Radney
Eva Jordan-Johnson Owner/Group Travel Consultant, Jordan Travel Enterprise, P.O. box 37, Oakland, Florida 34760 407 924-2760 http://jordantravelenterprise.com and  http://allinclusivespecialevents.com

5 Ways to Put the FUN in your FUNdraiser
Has your fundraiser fallen short of your goal? Are you experiencing a lack of enthusiasm from your members?
Travel is fun, adventure filled and an exciting option to use as a vehicle to raise funds effortlessly.
The members of your group, organization or staff will be traveling regardless. Why not offer a fun way for the group to come together, vacation, network and raise funds for your cause.
Does this sound interesting to you?
Here is a checklist to help you begin the process:
1. Utilize the service of a Travel Consultant who specializes in group and event travel. They will be able to show you how your event can raise funds and review numbers potential.
2. If you do not have an email marketing system, select a service that matches your need and get started. Options to consider: I-Contact, Aweber or Madmini to name a few.
3. Consider your group or audience when answering these questions. What is a good time to plan your event? Is your audience mainly seniors, retired folks or empty nesters? Is you audience mainly parents with school children or a combination of the two?
4. Select your travel options: Cruise or All Inclusive Resort? What is a destination or destinations you think the group would enjoy?
5. Think through your event – What are things you want to add to the event for the guests; For example, brochures with information about your organization, T Shirts with organization name, gifts or guest speakers.
If you would like to discuss your idea for a fundraiser with travel, please complete the  Group Leader Enrollment Application ,  Followed by a complimentary consultation.
Eva Jordan-Johnson Owner/Travel Consultant, Jordan Travel Enterprise, P.O. box 37, Oakland, Florida 34760 407 924-2760 http://jordantravelenterprise.com

"Perhaps travel cannot prevent bigotry, but by demonstrating that all people cry, laugh, eat, worry, and die, it can introduce the idea that if we try and understand each other, we may even become friends." – Maya Angelou

"Leave Ordinary Behind"… and travel to far away destinations on the continent of Africa.  South Africa, home of Nelson Mandela where even the mountains have a story to tell…
… and, You don't just visit South Africa, You will meet South Africa!"

Are you ready to experience an amazing adventure, click the link below for details:

Eva Jordan-Johnson Owner/Travel Consultant, Jordan Travel Enterprise, P.O. box 37, Oakland, Florida 34760
407 924-2760 http://jordantravelenterprise.com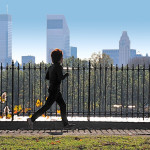 5 Tips to Staying Healthy While Traveling
I travel often. Each time I pack I do so strategically to ensure I stay healthy and fit while away. While traveling offers us the perfect opportunity to step-out of our normal routine and expand; it is not an opportunity to get out of our normal healthy habits. With a little effort, it is possible to stay in shape, prevent illness and relax into our travels certain that upon returning back to our every-day's, we won't have to undo any damage.
Here are 5 simple tips to implement during your travels to stay healthy:
1. Keep Moving – don't drop the workout routine.  Relieve airport stress (think TSA) and flight stiffness by getting up and moving on your flights. If available, utilize your hotel fitness room, forgo public transportation and walk, you will feel much better by getting in some activity. Note: check with your hotel concierge for local running/walking trails.
2. Keep the germs at bay – no one wants to get sick during vacation, or come home sick. Pack hand sanitizer and sanitizing wipes with you and use often. Wash hands frequently.  Drink plenty of fluids, eat foods with antibiotic properties, and stick to your vitamin regimen.
3. Snack Wisely – pack your own snacks in small Ziploc baggies, nuts and dried fruits are good options.  If fast food is the only option, order the kid's meal, avoiding the supersize.  Drop in a grocery or local market to find your best options.  Keep your energy levels where you need them so that you can explore and enjoy your destination!
4. Stay hydrated – the best way to avoid jet lag is to start hydrating days before your trip.  Low humidity on plans will find you feeling thirsty.  Opt for water or juice on the flight.  When traveling on day trips, carry water with you to prevent dehydration.
5. Get plenty of rest – lack of sleep and jet lag can weaken the immune system. Sleep is essential and allows our brains to consolidate memories, daily tasks and make good decisions. And, who doesn't feel great and ready to conquer the day after a good night's rest?
Though you'll be out of your normal routine, keep to your regular health regimen as much as possible , making your travels all the better!
Guest Blogger  – Camille Frame with Rites Of Passage Travel
Camille Frame is on the journey of her life.  She was raised in the mid-west and bitten early by wanderlust and awe. She is now a curious, purposeful traveler adventuring around the world and making friends out of strangers.  She is committed to a lifetime of discovering places and people and meals that enrich, shape her and fuel her passion – to find out what surprising, thrilling discovery awaits.
www.RitesOfPassageTravel.com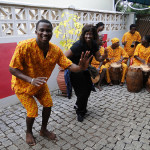 Every Vacation Has A Story…
A few years ago, our Vivian and Pat's family was fortunate enough to have their  brother offer his DNA for use with African Ancestry to dig deeper into their  families history.  Through this reputable company our family discovered that our lineage was Ashanti or Asanti as said in Ghana.  Pat and Vivian decided to travel to Ghana to reconnect with their ancestors.  The trip was emotional, educational and yes, a reconnection.
Who is Kwame Nkrumah?
One of our first stops was the Kwame Nkrumah Mausoleum and Museum:  He was the first president of Ghana, who was later over thrown by the CIA because of his friendship with communist countries.   Two people he admired the most were Marcus Garvey and W.E.B. Dubois.  President Nkrumah believed in the empowerment of women. He said, "To educate a man, you educate an individual; To educate a woman, you educate a nation."  When he died he had three burials: 1st  in New Guinea, 2nd in his mother's village, 3rd in Ghana's museum.
Exploring Ghana
When we went to the restaurant for dinner, we were greeted with the music of African drums.  The dancers entertained us as we feasted on chicken, fish, two types of rice, salad and ice cream.  After dinner, we were encouraged to join them for an evening of dancing and singing.  Little did we know that was just a sample of good things to come.
The legacy of  our ancestors
The events from The Ancestral Graveyard broke our hearts.  Before the 1900s domestic slavery was similar to indentured servants.  After the 1900s the Transatlantic slavery began.  This is the slave interment center.  At the interment slaves were examined, fattened up, given their last bath before the auction, and then covered with Shea butter to be sold.  Those who were not able to be sold were killed and buried in bamboo by the river.  The women in the early stages of pregnancy were sent back to the village; those almost full term were kept until they had their baby.  The baby was killed and the women put on the auction block.  We all said prayers for those who had died at this spot.
We were able to visit three slave castles, Cape Coast, Elmina, and Fort Amsterdam (the village of Louis Armstrong's ancestors). From a historian, we learned how the Portuguese, Dutch, and British battled to control the different slaves castles, how they added moats and bats to defend the castles. The Africans were told to use bricks that came on the empty ships and used ground sea shells as mortar to build the forts. We walked in the close quarters seeing only a sliver of light, you saw where they ate, urinated, or watched another slave bleed to death; it was an experience that you will never forget.  In the picture, we are looking at the marks on the wall that the slaves made to show they were there.
Along with shopping for Kente Cloth, we learned the process of making the dye and also made scarves using stamps of the symbols.  The making of Kente Cloth and the tribes' resources are being lost with the use of machines.  The Ghanaians wear red and black Kente cloth to funerals of people over 80 years of age to celebrate their life and to all others they wear the black and white cloth.  They use bill boards to announce the funerals.
It is a memorial site to see people come from miles around dressed in their special garments.
"Until the lion tells his story , the story will always glorify the hunter."
These two coffins represent the importance of going home, the people of Ghana feel strongly that our return reconnects us as a people.  Ghana is a beautiful land made of proud beautiful people willing to admit their mistakes, learn from them, and never forget them.
Eva Jordan-Johnson  Owner/Travel Consultant,  Jordan Travel Enterprise, P.O. box 37, Oakland, Florida 34760
THE CHECKLIST
Are you getting ready to pack for an upcoming trip?  You are almost done and you are wondering what's missing?
3 copies of airline tickets, passports/visa, itinerary; pack one copy in your carry on, one copy in checked luggage and leave one copy with someone at home.

Empty bag for souvenirs

Driver's license and auto insurance card ( in case you decide to rent a car when abroad)

Medical insurance cards and medical history ( especially if traveling alone)

Another photo ID ( just in case)

Leave contact and emergency numbers at home

Place prescription drugs and any essential medications in a carry on bag

Glasses, contacts; don't forget your contact lens cleaner

Vaccination certificate (if required)

Casual watch; hopefully waterproof

Now you are ready. Have a wonderful trip!

Eva Jordan-Johnson  Owner/Travel Consultant  Jordan Travel Enterprise P.O. box 37 Oakland Florida 34760
407 924-2760  http://jordantravelenterprise.com